Acutonics OhmWorks® Self-Care for Harmonic Living: Now available at tchiya.com!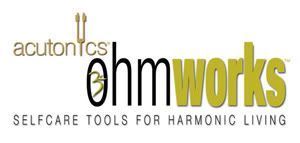 Available for purchase...
Acutonics® Ohm Unison Tuning Forks

[TFSOU]
reg. $130.00; on sale! $117.00

Designed for home use, the Ohm Unison Starter Set is used to promote balance and
ground your entire body, to reduce stress and tension, and to nourish and boost the immune function.
Includes two identical Ohm Tuning Forks, instructions, and a storage pouch.
Acutonics® Solar 7th Tuning Fork Set
[TFSS7]
reg. $140.00: on sale! $126.00
The Solar 7th Tuning Fork Set contains the Sun Fork whose strength and initiative is balanced by the Low Ohm Tuning Fork, when combined these two forks create a musical 7th that helps to strengthen our spine, and pushes us toward the change we most need. Use to boost the immune function, lift our spirits, and treat peripheral neuropathy.
Includes a Low Ohm Fork, a Sun Fork, instructions, and storage pouch.
Acutonics® Mars Venus Set
[TFSMVM]
$135.00

Mars and Venus produce a musical 5th that creates an opening to connect, explore, and understand the opposing yet complementary forces within us. Action-oriented, passionate, and instinctual, Mars is tempered with the soothing, harmonious, and refined energy of Venus. This dynamic duo propels us forward to look at life in a new way. Are you prepared to open your mind and heart and look at what gets in your way? Ideal for balancing the chakras, enhancing the creative process, and increasing awareness of the steps needed to move forward. Mars and Venus can be used together, or you can combine Mars or Venus with Ohm, which changes the character and archetypal qualities of the interval.
We recommend purchasing a table top acuvator or belted acuvator to use with these products.
Acutonics®: There's No Place Like Ohm, Sound Healing, Oriental Medicine, and the Cosmic Mysteries, 2nd Edition!
[BONPLO]
reg. $75.95; on sale! $60.76
This practical guide to healing with sound draws the connections between Eastern and Western science, medicine, mysticism, and music, and also provides specific treatment protocols, case studies, and detailed illustrations that demonstrate acupuncture, acupressure, chakra, and trigger points that are used in healing with the Acutonics® Tuning Fork System.
Acutonics® BLUE Belted Acuvator
[ACVB]
$39.95

Specially designed to activate and maximize vibration of your Acutonics Tuning Forks, the Belted Acuvator is worn on the leg just above the knee. The adjustable strap fits comfortably to the body.
Please do not strike forks directly on your body! Striking forks on walls or furniture is also discouraged.
Available Options:
Acutonics® Table Top Acuvator
[ACVTT]
$24.95
The Tabletop Acuvator is designed to activate our tuning forks and maximize vibration. This acuvator is weighted and sits firmly on the corner of your treatment table or any tabletop. Treat your Tuning Forks with respect. Please do not strike them directly on your body, shoes walls, furniture, or each other.
MAY THE FORKS BE WITH YOU!!!! HETEP! PEACE!
Tags:
acutonics
,
AstMaataJi Temple
,
Cosmic
,
cosmic sound healing
,
Divine
,
Healing
,
ohm
,
ohmworks
,
sound healing
,
Sweet Sounds
,
tuning forks
Trackback URL for this blog entry