CELESTIAL FOLK MUSIC IS HERE!!!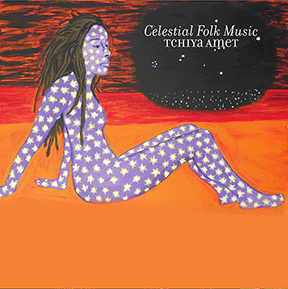 Official release date: September 17, 2012, Just in time for the Equinox!!
A Musical Cultural Astronomical tapestry, woven with myths of the stars and music & rhythms from the Ancestors.
This collection of songs is also a collection of stories and teachings.
As you listen with your heart, you will see in your mind.
Inner joy will be experienced as you dance and sway into your transformation.
The Original People of the Four Directions all share a love of life on Earth as well as a Mystical and deeply profound connection to the Heavens, the Milky Way Galaxy
and the Dogstar, the Sirius Star System.
CAN PURCHASE ONLINE ONLY AT
TCHIYA.COM
UNTIL OFFICIAL RELEASE!!!
OR VIA REGULAR MAIL, send check or money order made out to Tchiya Amet: PO Box 215 Covelo, CA 95428
OR IN PERSON.....
Most of this music was recorded in Rio de Janeiro, Brasil. Why? That is another story. I shall be posting shortly on my travels to
Belize, Mexio, Peru, Brasil and Kemet in search of more information on these Sirius Pyramid Culture Centers. And also to
find out for my self about the information presented in "When Rocks Cry Out", by Horace Butler. Stay tuned....
Since you are on my email list, or just made your way here, you have the opportunity to obtain this music befoe the rest of the
world even finds out about it!!! What good fortune!!!
Songlist:
Esho Funi. Teachings from Lotus Sutra, about the Oneness of You and Your environment.
Keep Chanting: Song about Itai Doshin: Many in Body, One in Mind. Also from the Lotus Sutra.
(Japanese Buddhism)
Master of Desire: Teaching from the Baghavad Gita, from Hindu Culture (India).
Love & Joy: English Translation of Xodo, popular Brasilian song.
Egyptian Bluez: 6/8 rhythm with Kemetic (Ancient African Egyptian) Chants
AST MAAT: R U Sirius Enuff?? Tribute to Goddess Aset (Wisdom and Healing Words
of Power) and Goddess Maat (Balance, Truth, Order, Justice, Harmony, Reciprocity & Righteousness)
Po Tolo. Dogon Sirius Culture, from Mali
Where the Dog Ran: Cherokee Myth of the Creation of the Milky Way Galaxy
Fire Water. A song about the Milky Way Galaxy, inspired by the Quechua of Peru.
Equinox. Original lyrics about an Equinox, written for the Classic John Coltrane tune.
Precession of the Equinox. Piano instrumental inspired by precession.
No Kwi Si Iga (Star Days): Original song in Cherokee about some of the things I love about life on Earth, pertaining to the 4
Seasons & our precious Star, the Sun! Loving Life on our Wonderful Planet Earth,
Our Home!
Great Purification of All Things. This original Native Reggae song is based on Hopi Teachings about
the challenging times we are living in....
Fucked Up System. Name says it all!
Wonderful World: This tune is a classic thanks to Louis Armstrong! This is a Brasilian-Reggae version...
Egyptian Bluez Instrumental: Featuring awesome Kora solos by Youssoupha Sidibe.
SUNDAY AUGUST 5, 2012 7PM
PRE-CD-RELEASE AND BIRTHDAY CELEBRATION!
Yep, it's my birthday! Bassi Larry on August 4!!
Rock Tree Garden (George's Place) at Howard & Perry Streets
Round Valley (Covelo), CA
Potluck/BYO______________: I'm only providing Music! PEACE!!! Tchiya Amet El Maat
CELESTIAL FOLK MUSIC IS HERE!!!
Trackback URL for this blog entry