Good Rising and Great Awakenings. Uben Nefer. Nehast.
Seeing The Gift in the Adversity in the Light of the Day of My Birth.

Turning 54 has been one of the most challenging birthdays of my life. I am so grateful that it is now just a blogpost. It  has taken me this long, 20 days, almost 3 weeks to be able to respond to the hundreds of birthday greetings and loving wishes that I received on social media, the telephone, text etc. So many wishes for happiness, joy, peace, fun, success. Overwhelming pressure to post something clever, profound, unique!  The Truth is. sometimes, no matter how much you want to be happy, life throws you an ultimate challenge, just to see how you will react. This has happened to me 2 birthdays in a row now. Perhaps you recall my birthday fiasco from 2014 and the Reggae on the River Molestation. That was a disaster, because I handled the situation just like the way the villains wanted me to: I froze, stayed silent for a few days, and by the time I took action, it was too late. 
I would have to say that since I did not get the lesson last August, it had to be repeated again and again until I learned to say NO at the sign of that very first red flag. After that event, I went through a few more instances of betrayal and violation. In fact, at one point, my neighbor across the street was so angry with me that she wanted to kill me. That was fun. Each time, my response time was quicker, faster, stronger, better, and I could feel myself coming back to life, like for the first time in decades. However, the lessons kept coming in one form or another.  I also managed to break two toes on the same foot within a 6 month period. The Universe was obviously trying to tell me to slow down and be more careful about where I place my next step…..
flash forward to August 5, 2015. Already well within the Opening of the Portals of HetHeru and Heru, (Venus and Uranus Retrograde: read more here: Dua Sopdu Uben Nefer (Adorations to Sirius, Good Rising) which remain open until September 6 and December 26 respectively), there had been several relationship "hiccups", cutting off, ending, break-ups, etc. I even ended a friendship/musical partnership because I was not able to take his advances any longer, and had seen too many red flags. (Why wait until the worst happens? Yes, why wait for the assault? Especially if there are rumors of this in his past? Just end it now. That is my new motto) Each one, although sad, was actually for the best. The kind of situation, where you know it must end, but you really just wish things could change.  However, I was not prepared for the news I received, first thing after completing Shedy (devotional worship) that rising on my birthday….
You may or may not be aware, but in 2010, with the death of my mother,  Jane Ann Johnson Hambric, I inherited an apartment building on the Southside of Chicago.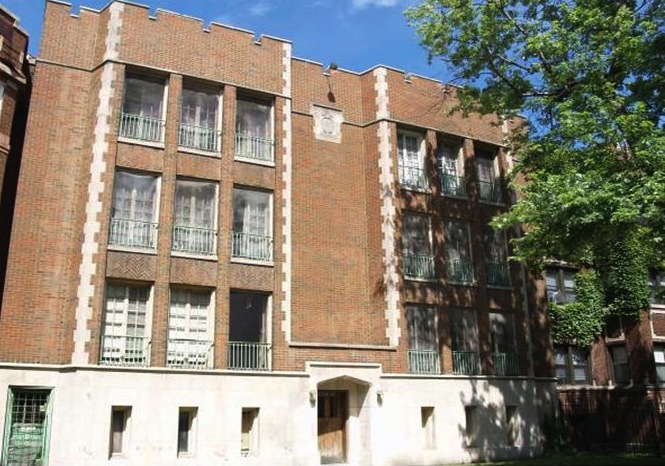 Although this sounds great, it has been a gigantic challenge. It is an experience that offers many classes in the school of life. I am currently taking the class about staying calm in the face of adversity so that you can see the gift of the adversity.
Turns out, the tenant that had been successfully evicted in July after not paying rent since January, had allowed the HOT WATER to run continuously since January. The Gas bill is now $9K, and the Water bill is $3K. There has been so  much damage, the plumber cannot even turn off the water yet! Not sure what the repair and remodeling fees are going to be….the property taxes are bad enough.

Here are some more photos of the damage. Unfortunately, this is how it is for most buildings, not just this one. The Law (lawlessness!) of the Land actually protects criminals, squatters and non paying tenants, because the system can make more money this way….
[su_carousel source="media: 1928,1929,1930,1938,1937,1936,1935,1934,1933,1932,1931″ limit="36″ link="image" height="440″ items="1″]
The contractor also stated that the place is completely roach infested, that the roaches actually come crawl on YOU when you enter the apartment. This is how they left the place, plus owing $4200 in rent. Yes, this is how they left the place, this is how they lived. 
It will cost thousands to get this building up to speed the way we would like to, however, the lessons that I am learning are priceless. Gaining confidence,  steadfastness, learning to speak up and take action in the moment, remaining calm in the face of adversity is by far the most valuable training I have received, and this stewardship is an excellent vehicle to deliver the lessons!  Even better, getting the inheritance for my children in order. It would be so amazing to be able to completely rehab this property all at once, instead of pne room at a time…

Currently working with insurance agent and looking for funding, investors, loans, etc to repair the damages. This was a cruel and vicious attack, and I am disputing the charges, and seeking to take civil action against this person whom I once thought was an alright tenant. In other words, I am seeking Justice, not for revenge, although sometimes I do feel anger and other emotions, and other fetters and afflictions of Set. But because I am seeking the Restoration of Maat on the Earth,  (OM MAAT GEB) this is one way I can take action in this tiny corner of the universe. In the past, would have just paid off the bills on a payment plan. This time, I am asking for assistance, guidance and protection, rather than running from the challenge. I am preparing for the good fight, in the court of Law of this Land, coming up on Thursday for violations that this same tenant caused, and had me cited for! Yes, she had me on the triple play: eviction costs, utilities, that she ran up, and repairing damages that she caused.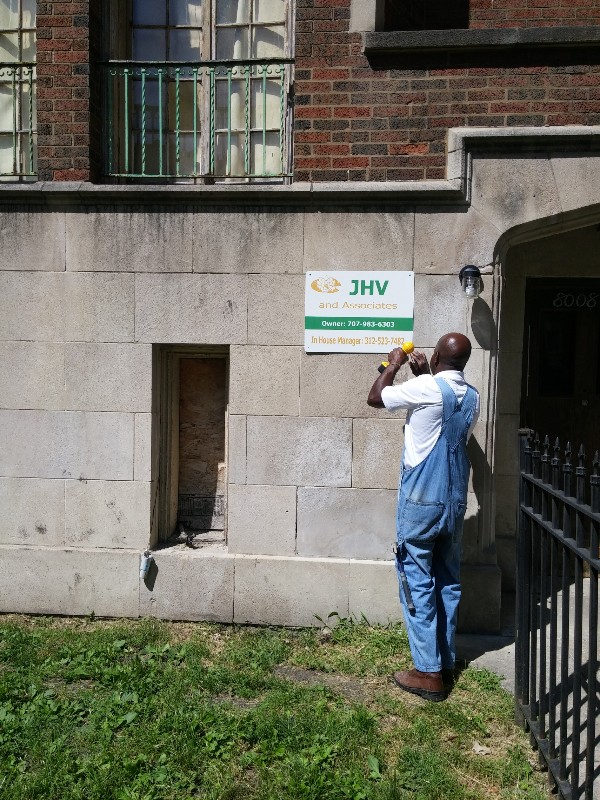 Joe is Putting up the new sign…
UPDATE 8-25-15:  part 1. Just learned today that right before they were evicted, there were  gunshots fired in the unit, and two wounded victims. No lives were lost thankfully. This unit is right across  the hall from our family apartment…
part 2. got to tour the major rehab of a building across the street. Totally gutted and done over. Very inspiring and encouraging. The Vision is to give the building a complete make-over and make it GREEN and Eco Friendly.
SAVE VIA'S HOME!
If you were SIRIUS about wishing me a Happy Birthday, then I am asking you to visit the gofundme  page, and to make a donation or contribution to this project. If all 8000 plus people that I am connected with through social media each gave $1, we could pay the back taxes easily, and perhaps begin much needed renovations.
What about the Gift in THIS adversity? I went through some pretty dark days, as in NO LIGHT. No awareness of higher consciousness, no love of self, no faith, no hope, no yoga or meditation, no fresh juice, no hikes with my great dogs, just lots of NO which is pure NON-SENSE!
There are several gifts that were born during my 3 week absence from
the Light of the  Day of My Birth:
a stronger sense of self, stronger trust in my intuition. more devoted to my intuition than to pleasing someone that is not even in the same library, let alone on the same page!

stronger commitment to my music.  I have severed my connection with people and organizations that are no longer operating at the same level of awareness  that I am comfortable in or striving to attain and maintain. In other words, no more AnMaat events, organizations, OR PEOPLE. Unfortunately, this includes Reggae events, Rasta in general, and most Indigenous Cultural events in North America! I realize this sounds harsh, but it is just what is the best thing for me. It is kind of like when you first become a vegan or first start to grow your hair out naturally. Or first start a spiritual practice that is new to your loved ones. Your lifestyle changes so your consciousness is obviously changing as well. It might seem severe to the folks that are getting "left behind", but to me, it is pure freedom and joy. I must be honest and realize that when an event is purely commercial, with no true spiritual foundation, teachings, or teacher, then more than likely, I am going to experience some level of violation., just by being in that energy.  So, until I have built up enough of my own protective forces, I have decided to remove myself from these types of environments, events and people. Nothing personal.

This new determination, from closing one door, has led to many others opening. It is beyond seeing the red flags. It is about trusting that there are no flags. Instead, I am learning to look for the gift in every situation. Sometimes, the only way to see the gift is to stop seeing what was missing behind the now closed door. Letting go, not of the events from the past, not of the good memories and good feelings that remain, but letting go of the attachment to the past and her outcomes…..

Yes, this is indeed the journey through the Portal of Hetheru and Heru, Venus and Uranus Retrograde. Plus, SIRIUS IS RISING. The Moon is growing Full, and I am feeling all of these cosmic forces, in my Body Temple, and in my Life. Even in my Temple Home, all of this energy makes me want to do a super cleansing and clearing of negative energies in my home, which I did a few weeks ago. I changed everything around to become more in alignment with the natural order of Nature, which is MAAT. Maat is in everywhere you are.

I was so busy breaking 2 of the laws of Maat

(11. "I have not uttered evil words." Variant: "I have not allowed myself to become sullen, to sulk or become depressed".and 14. "I have not eaten my heart, {overcome with anguish and distraught}";
Variant: "I have not committed perjury")

that I totally missed my daughter's , Via Rosa's, latest video release! here it is! She is truly amazing and I am so proud of her. Each time she puts out a new one,  it gets me moving forwards, towards making my first video.

I also received much musical inspiration during this moment in time and space this moment in eternity,, and will soon be releasing my first Kemetic Devotional Music Collection. In fact, LLuvia is designing the CD cover. That is correct,  in addition to being a master holistic vegan chef, rising songwriter and vocalist, she is also a visual artist: her media is MARKERS!
Here is one of the songs from the collection:
The Blue Lotus Speaks Volume 1: Anpu, Opener of the Ways
SENDING LUVIBRATIONS YOUR WAY….
Tchiya Amet
---
Related Post
---